Technology Advances
Send Fake emails without any website or script
It is easy to send a fake Email using some website or some paid shit.
Here something better
First download QK SMTP SERVER 3 (around 1587 kb, so no big deal).
You ll get it free for 30 days.
Get it from here

Follow these steps now:
: CONFIGURING SMTP SERVER

Once you have installed the QK SMTP server on your comp you must perform the following configuration.

1. Click on "Settings" button on the main screen,the Settings window pops up

2. On Settings window click on "Basic Parameter" tab

3. Set binding IP to "127.0.0.1″

4. Set port to "25″

: SENDING FAKE EMAIL (EMAIL FORGING)

1. Click on SMTP server icon on your desktop to start your SMTP server to run(The icon is shown on the notification area of the taskbar if it is running). If it is already running then this step can be ignored

2. Goto command prompt(Start-Accessories-Command prompt)
3. Type exactly as follows

C:\>telnet 127.0.0.1 25

Here 127.0.0.1 is the default IP of every computer.25 is the port number. SO you are connecting to the SMTP server running on your own computer. Now be careful from here

The IP 127.0.0.1 should not be substituted by any other IP.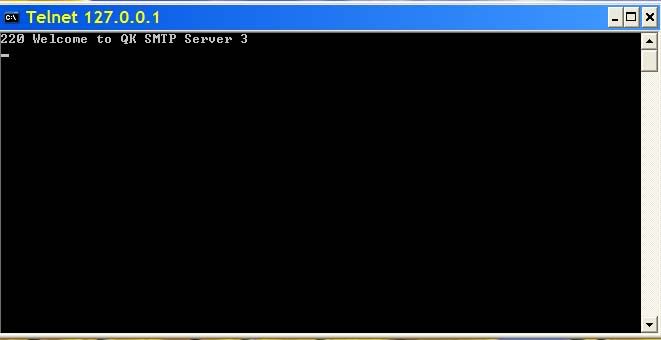 This is how it should appear

Now follow Exactly what I say.Explanation is in brackets, rest is what should appear on CMD screen.

220 Welcome to QK SMTP Server 3
helo hacker (Type helo & any name followed by space)
250 Hello hacker (Server Welcomes You)
mail from:billg@microsoft.com (email ID can be anything of your choice. This is the ID from which fake email appears to have come from)
250 billg@microsoft.com Address Okay (Server gives a positive response)
rcpt to:admin@gmail.com (Type any valid recipient email address)
250 admin@gmail.com Address Okay (Server gives a positive response)
data (type this command to start input data)
354 Please start mail input
From:Gates <billg@microsoft.com>
To:admin@gmail.com
Date:Sat Jan 5,2008 9:45 PM
Subject:Test to send fake email

<HERE IS YOUR DATA>End the body of email
by pressing [ENTER] .(dot) [ENTER]
250 Mail queued for delivery
quit
It should appear like this


(Your fake email is sent to the recipient)
It worked for me many times.
I need responses guys to figure out the accuracy rate.
(Information in this post is just for educational and research purpose)
---
---
Contact
Microlaunch
Rayat Institute of Engineering and Information Technology, Railmajra, Near Ropar (Chandigarh)

+91-9463349819

microlaunch@rediffmail.com
---